Shocking dashcam footage shows the moment Sgt. Anthony Mannino  ran onto a busy highway to rescue a toddler who got away from his mother, as he was patrolling the busy Route 59 in Naperville, just outside of Chicago.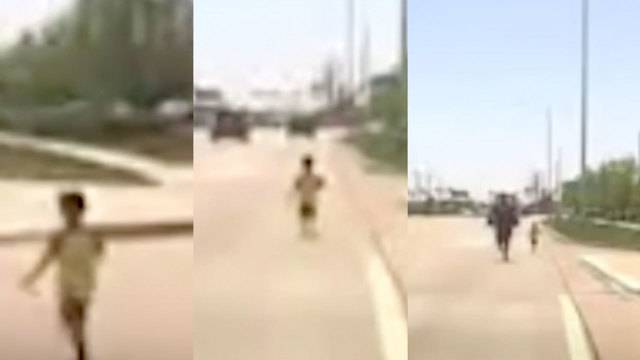 Seeing the toddler running up the road as heavy traffic whizzes past him, Mannino can be heard saying in his radio: 'Thirty-one, trying to corral a 1-year-old boy running across 59 just north of North Aurora.'  Pulling his squad car to a stop, Mannino shouts to the child as he darts along the road.  The police sergeant is then seen sprinting towards the little boy to calm him down before asking him his name and reassuring him that he's alright. He then scoops the child into his arms and returns to the police car.  The Dashcam footage was posted on social media by the police department.
Mannino said he was uncertain about what to do to find the child's parents when the boy's mother came running toward his squad car, which still had its lights flashing. She lived just a couple of blocks from the intersection, although he declined to say specifically where or to identify her.  "She was very thankful that day," he said. "She was overwhelmed."
Naperville police said the toddler let himself out of the house when his mother wasn't looking, and had been gone just a few minutes when Mannino spotted him. The incident was deemed an accident and the mother wasn't charged, Munch said.
.